The existence of marijuana addiction is hotly debated. However, there's plenty of scientific evidence to support marijuana's potential as an addictive substance for certain individuals.
Unlike other drugs, not everyone who uses marijuana will become addicted — some people, however, can become hooked.
As with any addiction, this brings with it a long list of harmful side-effects.
What are the signs of marijuana addiction? How do I identify if it's happening to me or someone close to me? What can be done to support people addicted to marijuana? Does marijuana use lead to more serious addictions to drugs?
We'll explore all these topics and more.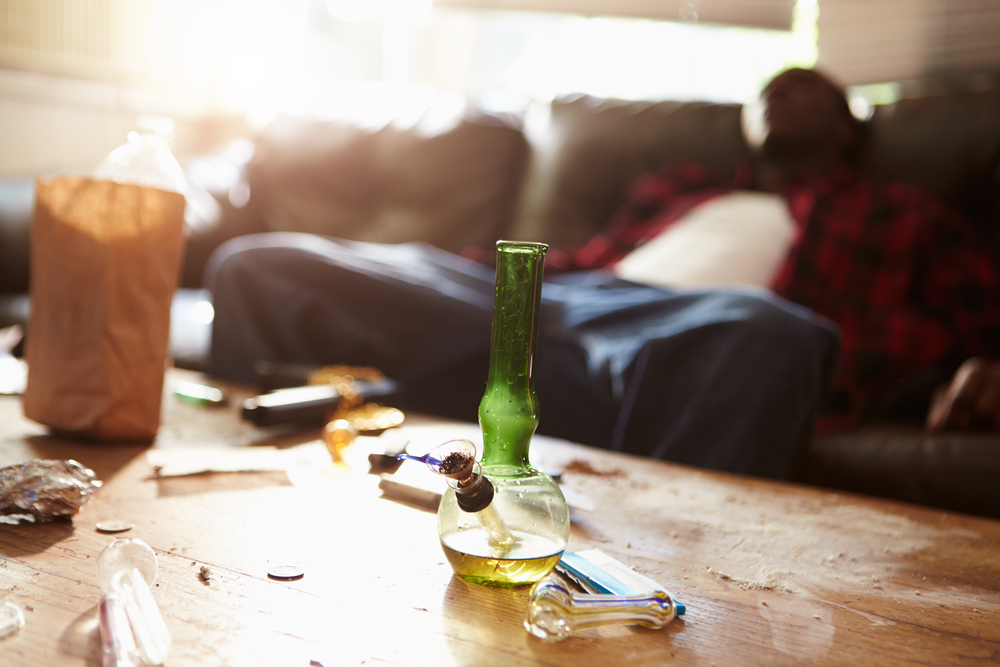 A Primer on Marijuana
Marijuana is a plant with a long history of medicinal and recreational use. There are two species used as marijuana; Cannabis indica and Cannabis sativa. Both contain the psychoactive compound known as THC (tetrahydrocannabinol).
This molecule is responsible for most of the psychoactive and euphoric effects of the plant.
Most marijuana users smoke the plant, although it can also be made into edibles like cookies or brownies and t as an E-liquid or concentrate for vapes as well.
The Psychoactive Effects of Marijuana Include:
Visual disturbances
Mood changes
Lowered reaction times
Lapses in memory
Problems with coordination
Paranoia
Anxiety
Hunger cravings
Other Effects of Marijuana
Other compounds in the plant have different effects. Some are useful for treating paranoia, insomnia, anxiety, and overeating. One of the main therapeutic agents in the plant is a compound called cannabidiol (CBD).
Users seeking the effects of CBD often form strong habits around the drug, and can form a dependency for underlying medical conditions.
Without addressing these underlying conditions, marijuana is only going to serve as a temporary crutch from symptoms.
How Marijuana Works
The main psychoactive compound in marijuana (THC) works by stimulating a special set of receptors known as the endocannabinoid receptors. There are two types of endocannabinoid receptors found in the body.
1. CB1 cannabinoid receptors are mainly found in the brain and spinal cord. They're the main targets responsible for the marijuana high because they're closely involved with neurotransmitter function. The primary neurotransmitter affected is serotonin.
Changes in serotonin levels cause unpredictable changes in perception. This neurotransmitter is also the target for psychoactive drugs, dimethyltryptamine (DMT), psilocybin (magic mushrooms), and acid (LSD).
2. CB2 cannabinoid receptors are found throughout the body but are primarily concentrated in the immune and blood cells. They're present in the thymus, which is where many of our immune and blood cells mature. They're also found in the spleen, which is tasked with filtering old blood and immune cells from the blood to prepare them for recycling.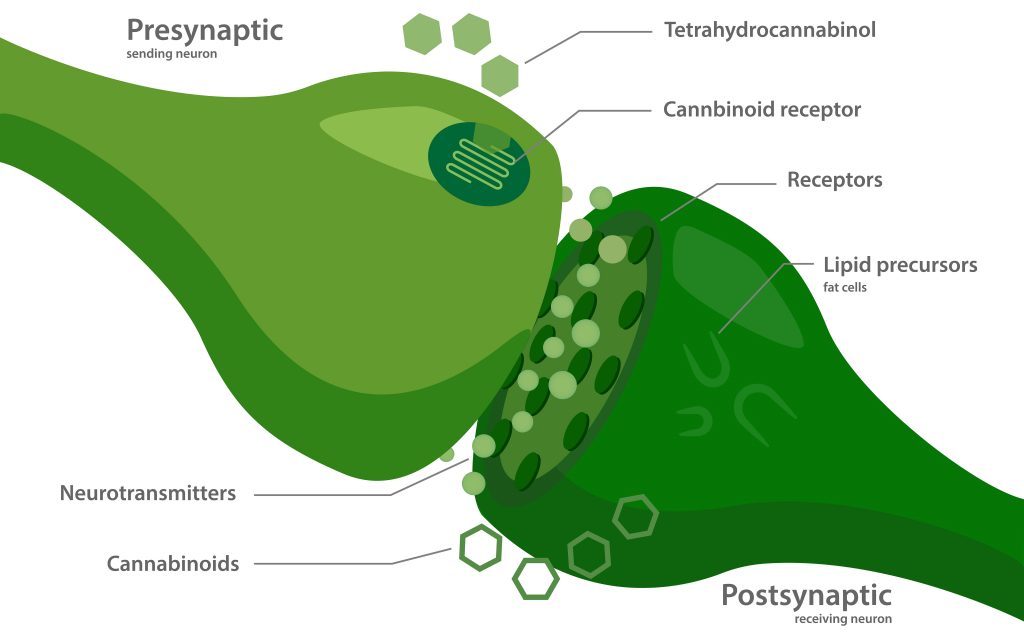 Marijuana Addiction
Although marijuana isn't as addictive as other drugs like cocaine, heroin, or prescription painkillers, it can result in addiction nonetheless — often with serious consequences.
Although some people can use marijuana without becoming addicted, some may find themselves easily hooked on the drug.
What causes this addiction?
The answer to this question lies in the process of addiction and habit formation.
Let's go over how marijuana can become addictive.
Stage 1: Habit Formation
Each of us has a special region of the brain known as the limbic system. This is our primal region of the brain. It's responsible for controlling our natural instincts and desires — eating, sex, or activating the fight or flight response.
There's a reward center found in the limbic system, designed to reinforce behaviors it perceives as beneficial to our survival.— it's activated by the reward circuit. This circuit releases a hit of dopamine, causing a burst of euphoria. This process conditions higher regions of the brain to seek out the trigger for that reward.
In the history of human evolution, this was the key our success as a species. It reinforces habits that increase our chances of survival and reproduction. Today, although still useful, it can become our weakness.
Marijuana can trigger the reward circuit to fire due to its euphoric effects and its ability to alleviate pain.
Marijuana also activates the opioid receptors in the brain and spine — which are also involved with the reward center. This is also why opiate drugs like Oxycontin are also highly addictive.
For many people, marijuana temporarily relieves the perception of stress, anxiety, and insomnia. These beneficial effects on the body cause the reward circuit to fire — leading to habit formation around its use. 
Stage 2: Marijuana Tolerance
With long-term habitual use of the drug, we build a tolerance to it.
This means that the body stops responding to it in the same way, prompting us to consume more of it to produce the desired effects.
This is something that happens gradually with marijuana, over the course of several months of regular use.
Tolerance is the start of a serious marijuana addiction. With tolerance, comes dependence.
Stage 3: Marijuana Dependence
As the body forms a tolerance to a drug—including marijuana— you're changing the metrics involved with homeostasis (balance). The body does this in an attempt to remain within a very specific set of parameters.
The problem is that once we reach this point if we don't take the drug for even just a few hours, we lose our ability to stay in balance.
Signs of Marijuana Dependence:
Anxiety whenever not using marijuana
Insomnia when not high
Inability to manage stress effectively
Severe pain whenever not using marijuana
How Serious is Marijuana Addiction?
Compared to other drugs, marijuana addiction is far less severe, but can still produce debilitating side effects for those affected.
Most adults who seek help for marijuana addiction have more than 10 years of near-daily use [1].
Marijuana addiction can also lead to more serious addictions when the herb stops working long enough to cover underlying pain or anxiety symptoms. This is a direct result of tolerance formation.
When the pain or anxiety becomes too strong, users often move on to stronger drugs such as Oxycontin or Xanax to find relief from symptoms.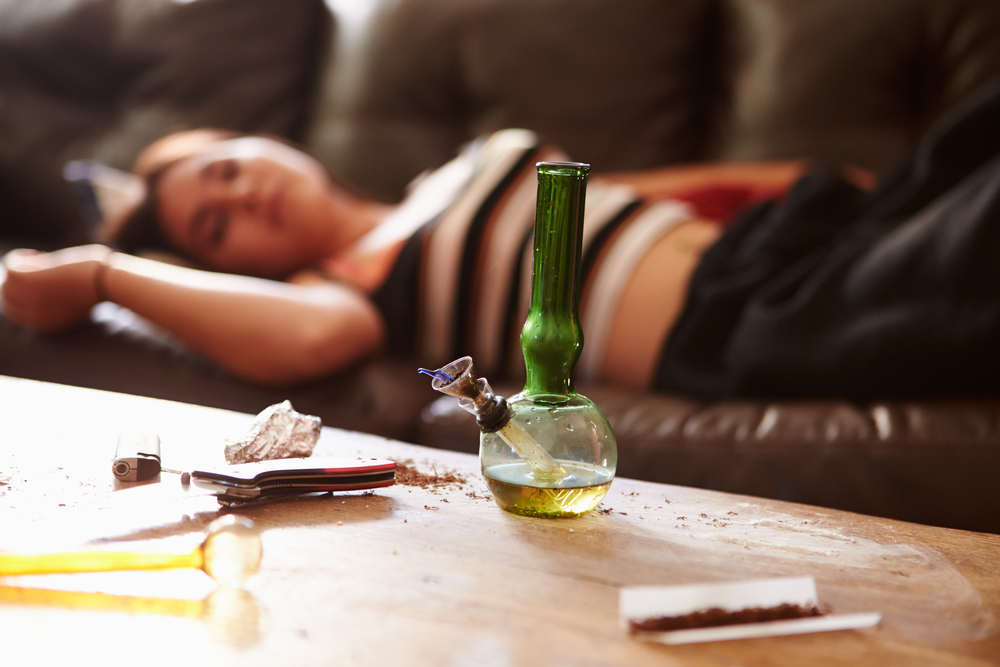 Signs of Marijuana Addiction
There are some key signs to watch out for that indicate an addiction to marijuana:
1. Using Marijuana as a Crutch
This is one of the main signs of marijuana addiction.
This plant is useful as medicine if used correctly — which can also be said of other addictive drugs like morphine, Oxycontin, and antidepressants.
As with all addictive medicines, marijuana can be abused for deeper rooted problems. When this happens, the user needs the drug to feel "normal". It's no longer serving them as a medicine and has instead only become part of the problem.
If you know someone who is using marijuana to escape chronic (long-term) problems such as anxiety, insomnia, or paranoia, they may have a problem with addiction.
2. Inability to Attend to Daily Responsibilities
With excessive marijuana use, it can have a negative effect on motivation and interest levels. This often causes users to avoid daily responsibilities, eating healthy food, cleaning, or personal hygiene.
Lapses in personal responsibility following marijuana addiction may include:
Adequate nutrition
Cleanliness
Work responsibilities
Social interaction
3. Signs of Tolerance Formation
As mentioned above, tolerance forms after using marijuana for long periods of time.
Marijuana changes our internal balance. Over time, the body tries to regain control over this balance by changing the body.
The negative effects of tolerance to marijuana may include:
Changes in neurotransmitter production or release
Changes in cannabinoid receptor function
Changes in blood pressure or heart rate
Changes in liver metabolic activity
Changes in sleep circadian sleep cycles
When someone forms a tolerance to a drug like marijuana, it can begin to make them dependant on it. Without the drug, the body falls out of balance.
A simple example of this is how marijuana affects sleep.
Many users take the drug to help them sleep after a stressful day. It helps them avoid those long hours of lying awake with thoughts racing.
After several weeks or months of taking marijuana to sleep, they decide to skip it one night.
That night they lay awake for hours and hours unable to sleep.
This is a direct result of dependence. With long-duration of use, we need marijuana to fall  asleep
It's no longer useful for particularly stressful nights, instead, we need it every day if we want a good night's sleep at all.
This is a problem.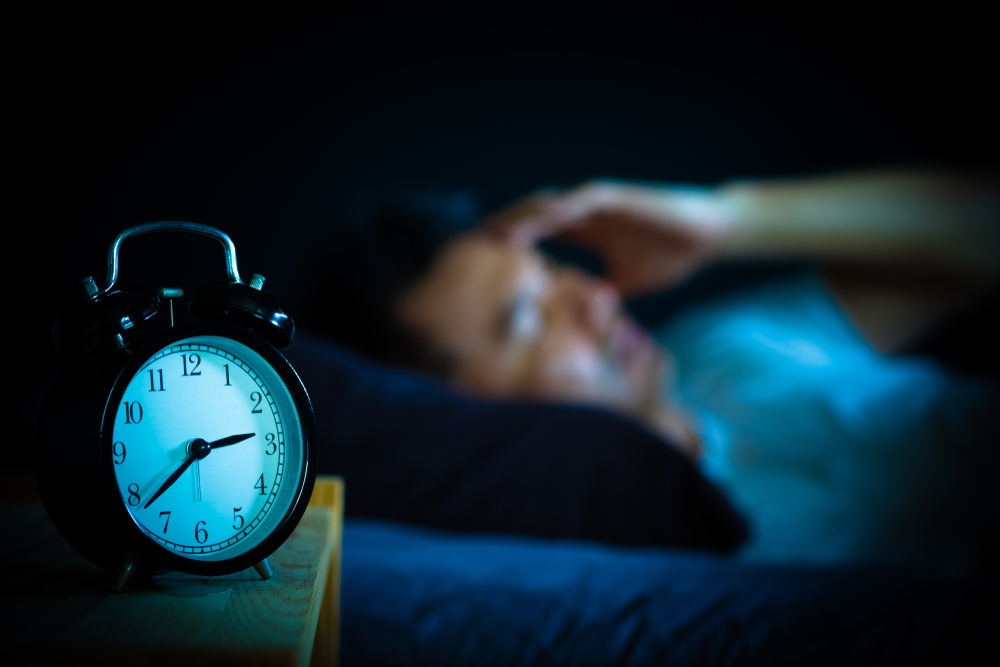 Treatment Options for Marijuana Addiction
Treating marijuana addiction is very similar to treating other drug addictions.
The process generally begins in a rehabilitation center where users can detox gradually from the drug. Once withdrawal symptoms have passed, behavioral therapy and support group sessions rewrite old habits around the drug.
Successful treatment can be done at home with discipline and the right support groups. However, drug rehabilitation is significantly more effective because it's designed to not only detox the drug from the body but give users tools to resist future urges.
This is extremely important to prevent patients from relapsing as soon as they're back in their normal routines — surrounded by all the same temptations and triggers for using the drug in the first place.
A Note on Marijuana Overdose
Overdosing on marijuana is very difficult. The LD50 of the active constituents in the plant are around 800 mg per kg. This means that in animal studies, a dose of 800 mg of pure THC for every kg of weight was necessary to kill half the rats [5].
Even in very potent marijuana samples, the THC content only makes up about 30% of the total weight.
This means that for a45 kg (100 pounds) individual, they would need to consume about 120 grams of marijuana in a single sitting — which is a lot. 
Injection of the substance significantly reduces the amount of lethal marijuana. The intravenous LD50 of THC is 30–40 mg per kg [5]. However, marijuana isn't normally injected.
Overdosing on marijuana is extremely difficult — in fact, there are no reported deaths from a marijuana overdose. However, there are some very uncomfortable side-effects that can result from taking too much marijuana.
The Main Side-Effects of Marijuana Overdose Include:
Paranoia
Psychotic symptoms
Hallucinations
Nausea/vomiting
Mood changes
Depression
Profound fear and anxiety
Summary: Marijuana Addiction & Overdose
Although marijuana has a lower potential for causing serious addiction to other drugs, it's not uncommon.
Addiction to marijuana usually doesn't happen overnight, it's the result of several months or years of regular marijuana consumption. As the drug activates the reward center in the brain, we crave it. Over time, other changes in the body develop leading to signs of physical addiction. When this happens, we need the drug just to avoid side-effects of withdrawal.
Marijuana addiction may lead to other, more serious drug addictions, and can interfere with your health and ability to perform daily responsibilities.
If you or someone you love is addicted to marijuana, seek treatment as soon as possible. The sooner treatment is given, the better the outcome.
References
Budney, A. J., Roffman, R., Stephens, R. S., & Walker, D. (2007). Marijuana dependence and its treatment. Addiction science & clinical practice, 4(1), 4.
Budney, A. J., Novy, P. L., & Hughes, J. R. (1999). Marijuana withdrawal among adults seeking treatment for marijuana dependence. Addiction, 94(9), 1311-1322.
Budney, A. J., Roffman, R., Stephens, R. S., & Walker, D. (2007). Marijuana dependence and its treatment. Addiction science & clinical practice, 4(1), 4.
Smith, D. E., & Mehl, C. (1970). An analysis of marijuana toxicity. Clinical toxicology, 3(1), 101-115.
Rosenkrantz, H., Heyman, I. A., & Braude, M. C. (1974). Inhalation, parenteral and oral LD50 values of Δ9-tetrahydrocannabinol in Fischer rats. Toxicology and applied pharmacology, 28(1), 18-27.